April 2020
Fixes and Incremental Improvements
Main Application Window:
Fixed Buy Now link to go to p3software.com/sales
Fixed display of Distributor branding buttons.
Job Manager: Flexi-Spec Templates:
Fixed empty Flexi-Spec templates list when in data-metering mode.
P3FileBank: Consolidated queries for Bids Files into a single Job or RateCard query.
Job Specification: Flexi-Spec and Notes sections:

Adjusted Labels-Column to top-align with the top of large text blocks.
Enterprise Settings:
File Locks: Fixed display of lock creation time data.
Send Email Window:
System now "remembers" users selection on the "CC me" check box.
Emails Messages:
Job Orders & General emails:

Fixed right-aligned text in specifications and other sections.

RFQ emails: Fixed minor table nesting issue.
General Infrastructure:
Sending Data Table Updates:

Improved error/retry messaging,
Added automatic-retry before failing,
Added option to run updates in background where appropriate.

XML Parser:

Improved screening and error-handling for invalid characters.
Improved parsing logic and end of content detection.
Simplified and clarified new-line character substitution option used for HTML rendering.
February 2020
Fixes and Incremental Improvements
Data Tables: Loading Failures:
Added retry/continue/shutdown option to handle error.
Help Pages:
Fixed page links several places in Detail Specifications windows.
Tax Rate Table Refactoring:
Eliminated creation of duplicate 0.0% rates.
Fixed sync of QBOL rates
Send Email Refactoring:
Job Award: Handles "no recipients" condition for Bids Declined without Exception pop-up.
Support Email: Eliminated attachments Exception problem.
Limited size of error messages logged into history, was causing corruption in files due to excessive size.
Job Numbering: Refactoring:
Fixed Issues with file locking during editing process.
Simplified API by separating tasks into separate methods.
Changed data file format to use XML storage.
Added Legacy to XML format migration process.
Enterprise Settings: Option List Editor:
Fixed issue where items could have duplicate indexes, which caused erratic behavior.
September 2019
Fixes and Incremental Improvements
Tax Rate Selector:
Adjusted to sort Tax Rates numerically.
Adjusted to eliminate duplicate Tax Rates.
Copy Job Process:
Job Dates (Bids, Art, Proofs & Delivery) now get reset to anticipated when Jobs are copied.
Project Proposal Item Editor:
Revised text in Margin/Markup change pop-up to indicate the change affects all projects.
Fixed bug: If User cannot change Margin/Markup setting, hides the button for that function.
January 2019
Fixes and Incremental Improvements
Email Attachments:

Added wait cursor when uploading file attachments.
Added Progress text below attachment button when large files are attached.
Added pop-up warning if the Transaction PDF document fails to attach when opening the Send Email window.

Job Bid Report:

Switched default Supplier selection to "All Suppliers" instead of "Do Not Show Bid Information".
Fixed problem with bid file attachment link URLS.

Job Order Window:

When Authorizing Orders, the Order Date will only be set if it is empty.

Job Award/Decline Process:

Added option to skip Bids Declined emails for Suppliers that did not respond to the RFQ.

Enterprise Settings Window:

Fixed problem where using the Cancel button to close the window left the Enterprise settings file in a locked state.

Project Manager Window:

Fixed problem where Sales Reps were not being set when a new Customer is selected.
November 2018
New Features
Optional File Attachment System added:

Provides an Attachments list to: Jobs, Projects and RateCards.
Tracks all Files sent with P3Source email messages.
Allows upload and storage of files as "Attachments".
Allows insertion of an Image file into Proposal Line Items.
Monitors all access to file Attachments.
Enables annotation of Attachments.
Enables user to set Attachment Access levels: Open (default), Monitored, Restricted.

Job Cancellation email message option added to the Job Completion pop-up that appears when the Cancelled Job Status is selected.
Consolidated Job Award Pop-Ups into a single dialog.
Fixes and Incremental Improvements
Job Manager Window:

Fixed "Add Customer" button action to add the Customer properly.
Made Currency label wider to accommodate longer currency descriptions.
Made Job Owner label font bigger and bolder, repositioned label to the right.
Fixed problem Awarding Jobs when no Customer was selected (Only happened when Customer Business Rules were turned on).
Add Cost Break-Out: Fixed problem where the Label text provided by the user was disappearing.
Job Ticket: Multi-Item specs: Added option to show Specs for only the Ordered Items on the Job Ticket.
Custom Job Status Levels: Fixed issue where extra space at the end of the label caused problems selecting the Status Level.

Send Email Window:

Replaced email TO and CC controls with new Email Address List control.
Send Email Window: Modified file attachments panel to upload and link files rather than attaching them.

File size limit now 50MB per file.
Attached Files get archived with Jobs, Projects and RateCards.

Adjusted Email message layout to show User's text Message and Attachments above formal documents in messages.
Fixed issue where Job Award email CC addresses were not getting included on the email message.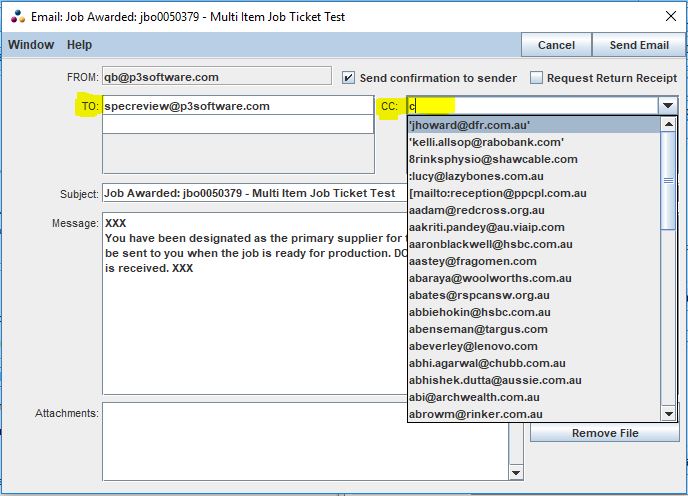 Project: Invoice Items: Adjusted Items to default to "Do Not Show", unless they have a non-zero quantity or amount.

RateCard: Fixed issue in the Create Proposal workflow process.

Document Preview: Adjusted print/page settings to force "Portrait" orientation for most documents. (Previously used Printer default setting.)
October 2018
Job Manager:

Paper Specifications: Fixed bug in international paper weight selector.
Flexi-Spec Templates: Fixed issues that occurred when no templates were present
Detailed-Spec Panel: Fixed issue with section displays getting truncated.
Ordering: Added PressWise Integration features.
Ordering: Items Table: Fixed issue with row height adjustments for long descriptions.
Ordering: Fixed issues with deleting and inserting new lines.

Email Window: Fixed View Document button.

Document Preview: Added additional error trapping and reliability features.

Project Manager: Fixed issue saving status updates after sending emails.

Data Export Functions:

Export System: Added Project-Jobs Export capability.
Export Window: Added additional data filtering control.
Export Window: Added Filter Setting storage between usages.
Export Window: Removed Filter Type Control.
July-August 2018
Project Manager:

Fixed ownership check issue where users could not open Projects in certain circumstances.
Fixed Status Change reminder to pop-up after sending email.
Improved Email error handling when no Customer is selected on Project.

Job Manager:

Ordering: QuickBooks: Fixed issue where QB Items List was not populating.
Cost Report: Fixed issue where single line Supplier invoices were not showing on report.
Cost Break-Outs: Fixed update of labels after change in Job Currency symbol.
Job Status Selector: Fixed Status change actions for Cancel & Complete, which were reversed.
Date Controls: Made text darker when in non-editable mode.
Consolidated Completion tasks into a single dialog and added finalize dates option.
Kiting Specs: Rebuilt system and fixed several bugs.

Enterprise Settings: List Manager: Fixed issue with Up and Down buttons not working.

My Settings: Proposal Terms: Fixed problem in loading Enterprise version of Proposal Terms.

Main Application:

Added error pop-up if Table Updates fail to reach server.
Added date color coding to Job List reports.
Added support for ISO Currency Codes.

Document Preview:

Fixed issue where previously viewed documents appeared in the preview after sending email.
Upgraded to version 20
Made Preview a static to reduce number of panel start ups.
Added error logging on/off switches.
Improved speed and reliability.

Export System:

Added support for exporting Item data with Jobs.
Added support for exporting Cost data with Jobs.
Added options for splitting header and line item data.
Added ability to add constant values to columns.
Enhanced formatting options.
January 2018
New Features
RateCard Price Insertion for non-standard quantities.

When inserting Supplier cost amounts from RateCards for non-standard quantities the system now automatically calculates a price based on the nearest two RateCard Price Points.
There are two calculation method options (See Graphic):

Use the Unit Cost Rate of the lower Price Point where total is lower than the higher Price Point cost (Default).
Use the Average Unit Cost between the two Price Points.

The calculation method may be selected in the Enterprise Settings Window, Jobs & Projects tab .
RateCard Price Insertion for Jobs is done through the RateCard Job Order Creator window , which is accessed from:

The RateCard Manager Window, Create Job Order button.
The Job Master Window, Prices menu, Insert RateCard Prices menu item.
The Job Order Window, Add RC Line button

RateCard Price Insertion for Project Proposals is done through the "RateCard Quote Selector" which is accessed when adding RateCard Pricing to a Proposal Line Item .

Several improvements were made to the "RateCard Quote Selector" :

The lowest bid amount for each Quantity is highlighted.
The Selections table shows the Supplier for the prices that have been selected.
When the Selection Grid contains a Quantity not on the RateCard, a cost calculation is made for the Supplier selected at that quantity.
The window is resizable so large RateCard grids can be viewed.

RateCard Price Information can now be Exported to and Imported from tab-delimited text files.

This makes it easier to edit and update prices in existing RateCards.

The Job List and Order List now use yellow highlighting to draw attention to Jobs that have received new Bid data from Suppliers.

The Project List now uses yellow highlighting to draw attention to Projects that have recently been Ordered by Customers.
Incremental Changes and Fixes
A problem with Shipping data getting erased after inserting RateCard prices into Jobs has been fixed.

A problem with erratic Zoom levels on the document preview panel has been fixed.

Page Numbering has been switched on by default for PDF documents created in P3Source.

Several Windows have been engineered to open quickly to show the user progress while slower data processing and loading tasks are going on. These Include:

The Project Manager Window.
The Document Preview Window.
The P3Connect Browser Window.

The Application Start Up process has been streamlined so the Main Application window opens more quickly:

Data Table loading happens in multiple parallel background processes.
The Job, Project and RateCard lists will remain blank until their respective data tables are loaded.

The Application Shut Down process has been streamlined so the Main Application window closes more quickly.

Caching data out to local storage is now done using multiple parallel background processes.
The caching process is done after terminating display of the Application window.